Speaking Volumes is immensely proud to have reached the milestone of having been operating as an organisation for 10 years. As a team of three, working part time with no core funding, we like to feel we punch above our weight, having worked with and promoted hundreds of underrepresented writers over the last decade with projects and programmes throughout the UK and around the world. To celebrate this we are so pleased to be publishing our first book. With publisher flipped eye (part of their 20th anniversary list), Not Quite Right For Us: Forty Writers Speak Volumes is available from 21 May 2021: order here: flippedeye.net/product/not-quite-right-for-us/
To accompany the book there is a digital tour – online events curated under the chapter headings of the book. Readings by the authors will be accompanied by photos, video and artwork, many newly commissioned for this purpose.
Explore the book, the authors whose pieces are in the book, the artists who have made new work and the events below. Watch our promotional film about the book featuring all of the writers, and listen to the Not Quite Right For Us podcast.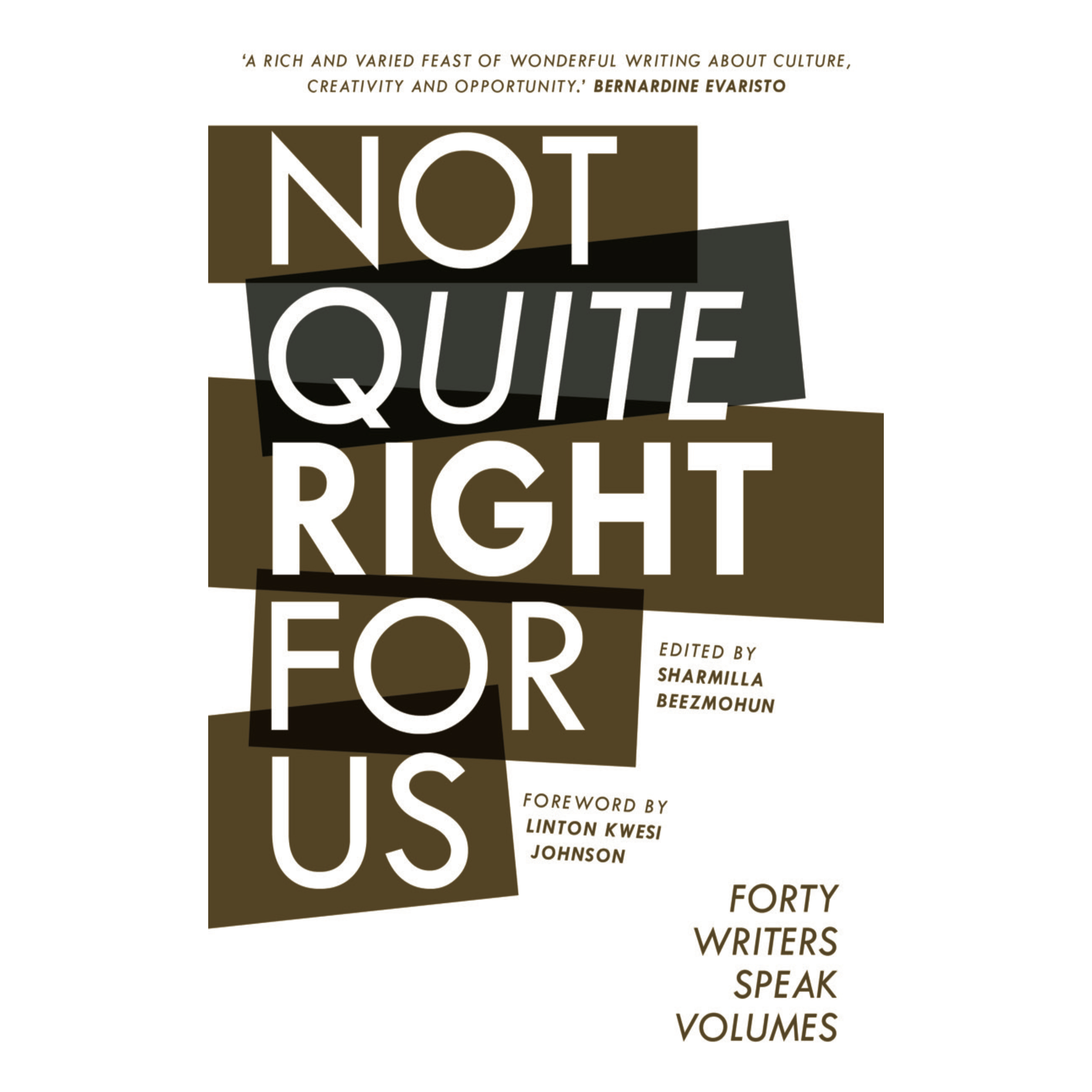 In this episode we hear 'The Nod' by Joshua Idehen 'Prodigal' by Maame Blue, and 'Bodies' by Shagufta Sharmeen Tania. Our guide is writer, curator and producer Amina Jama.   We take family for granted, don't we? Even when they may be dysfunctional, there's always the odd memory of some happy moments, at least. But family – whether blood or chosen – can be hard work too. Whether they give us protection – or not – or need protecting from harsh truths, our family histories and stories are intertwined, for better or worse. Find out how family can be 'not quite right for us' through the poetry and prose of Maame, Joshua and Shagufta.    Celebrating ten years of Speaking Volumes, Not Quite Right for Us is a singular collection of stories, essays and poems by a dynamic mix of established and surging voices alike; it's a warning shot, an affirmation, an education …   In forty short stories, poems and essays — by turns wry, gentle, furious, humorous, passionate, analytical and elliptical — these forty writers, new and established, speak volumes, invoking their experiences of outsiderness and their defiance against it.   Not Quite Right for Us is a stellar new anthology which explores the many ways we've all been made to feel 'not quite right' at some time or another.   Recorded in collaboration with Speaking Volumes.The anthology is available at all good bookshops, or order from Flipped Eye Publishing.If you enjoyed this episode of NQRFU, try London by Lockdown: a podcast about falling in love with a new city in the middle of a pandemic; remaining curious and open; and about making it work. Available on all podcast platforms or our website.   InformationMusic composed by Dominique Le GendreNarration by Lucy HannahExtra music & SFX from Epidemic SoundEpisode Image Thijs Schouten on Unsplash
---
---
Watch the video