This anthology is made up of 40 writers – some we have worked with, others we hope to in the future, all of whom we admire greatly. Featuring poems, essays and stories, the collection is a dynamic mix of established and up-and-coming authors, including Kerry Hudson, Colin Grant, Aminatta Forna, Xiaolu Guo, Nick Makoha, Byron Vincent, Rishi Dastidar, Johny Pitts, Rafeef Ziadah and more, with a Foreword by Pinter Prize winner, the poet Linton Kwesi Johnson. Responding to the theme of 'Not Quite Right For Us', these are authors whose work challenges the mainstream. Find out more about the authors here.
The book is edited by our ver own Sharmilla Beezmohun, the foreword written by the legend Linton Kwesi Johnson and the cover design by the brilliant Inua Ellams.
The book is arraged in thematic chapters: childhood; family; friends; work; travel; love; yesterday/today; today/tomorrow.
Order Not Quite Right For Us here: flippedeye.net/product/not-quite-right-for-us/
Along with the book, each author will take part in our accompanying event series. Over the course of the year they will appear in at least one online event, in partnership with major literary festivals and long-established partners of Speaking Volumes,
---
Listen to the Podcast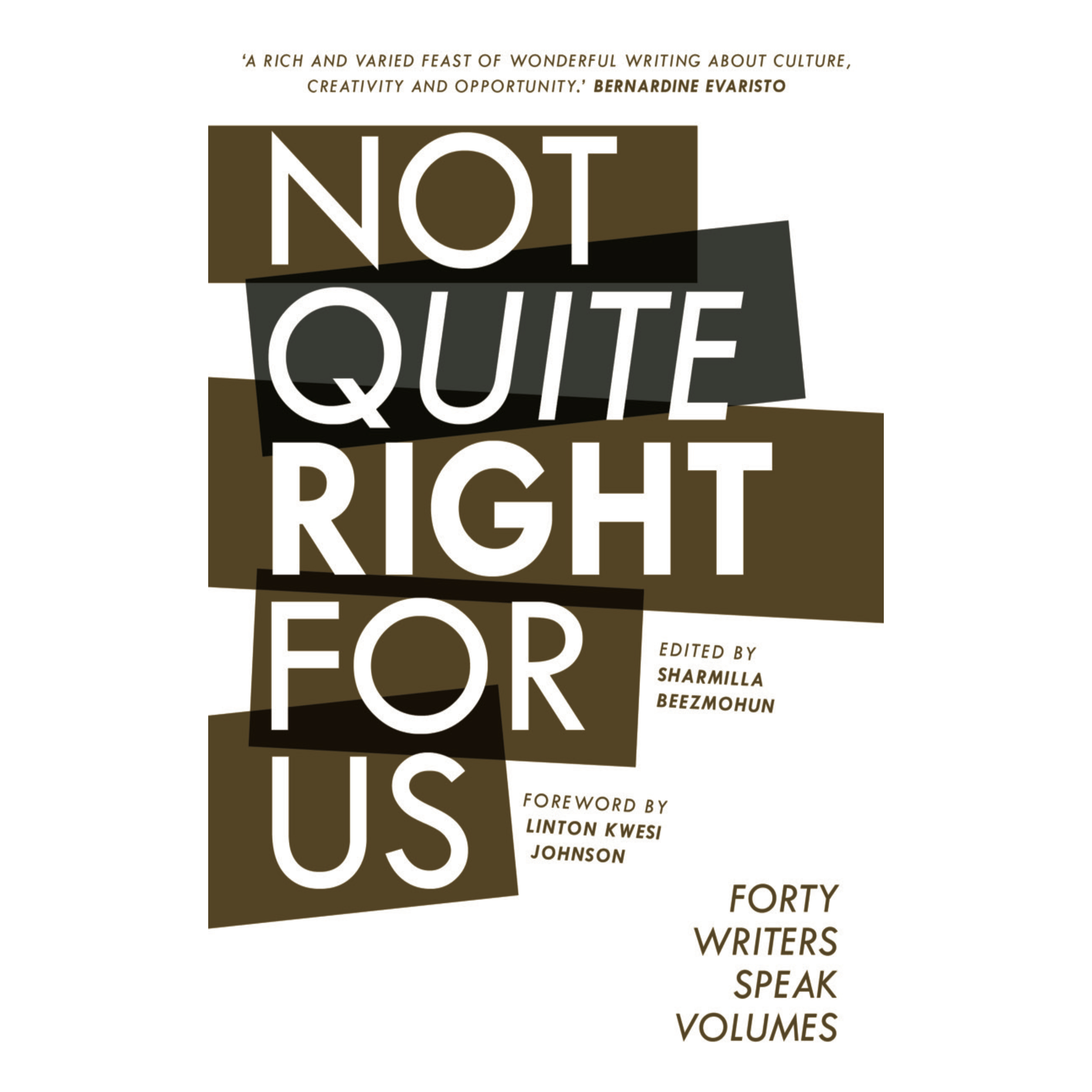 Friends, the people we choose to let into our lives, can be a joy and give us the support we need … but they can also make us feel 'not quite right'. From the bonds and ties of friendships that develop over years or decades, to relationships forged in a moment; from the middle of an ocean of people and places to the bosom of family; what happens in moments of disjuncture and what those moments can lead to — good and bad — is articulated in the friendships we continually re-negotiate through life's twists and turns. Sometimes, we can't say what we feel, sometimes we swallow the hurt, sometimes actions speak louder than words. Honouring ten years of Speaking Volumes, Not Quite Right for Us is a warning shot, an affirmation, an education … In forty short stories, poems and essays — by turns wry, gentle, furious, humorous, passionate, analytical and elliptical — these forty writers, new and established, speak volumes, invoking their experiences of outsiderness and their defiance against it. In this episode we'll hear 'Airhead' by Helen Mort; 'I = You' by Ashleigh Nugent; and 'Olden Friends Are Golden' by Tabish Khair. Our guide is stand-up poet, broadcaster and speaker Kate Fox. Not Quite Right for Us is a stellar new anthology which explores the many ways we've all been made to feel 'not quite right' at some time or another. This episode was recorded in collaboration with Speaking Volumes The anthology is available at all good bookshops, or order from Flipped Eye Publishing InformationMusic composed by Dominique Le GendreNarration by Lucy HannahExtra music & SFX from Epidemic Sound